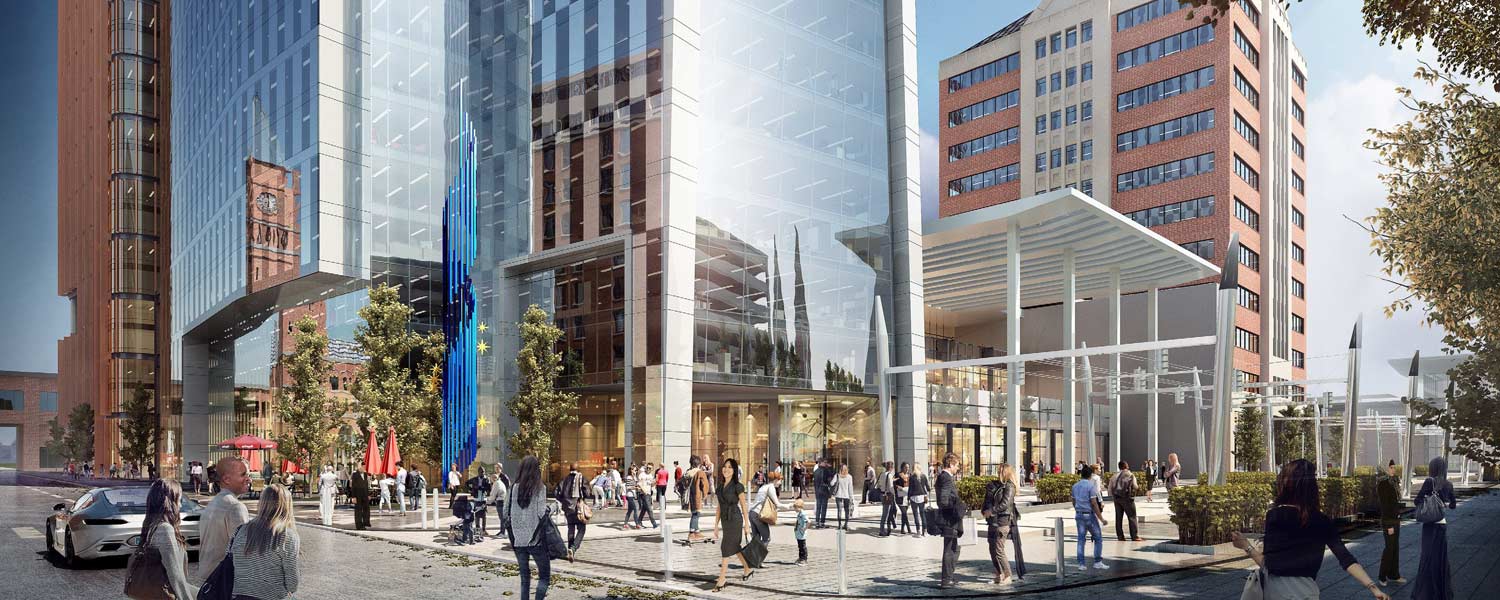 Posted on
October 24, 2018
Indy's momentum has gotten the attention of national media from Condé Nast Traveler to Food & Wine, and earned the city USA Today's "#1 Convention City in the U.S." honors. Numerous major developments have the city continuously evolving and moving forward.
---
Game-Changing Connectivity
Indy will soon welcome a 235,000 square foot expansion of the Indiana Convention Center and an additional 1,400+ rooms connected to the center with two Hilton-affiliated branded towers. The convention center expansion will include a 50,000-square-foot ballroom (the state's largest), 30,000 square feet of meeting rooms, and 40,000 square feet of pre-function space. The sky bridge connecting the hotel towers and expansion to the center will offer an additional 9,200 square feet of indoor/outdoor function space.The first Hilton-affiliated tower will stand 38 stories tall, offering 814 rooms, a sleek addition to the city skyline, and expansive views of downtown from a top-level sky bar. The adjacent tower will complement nearby historic architecture but with a modern design, and offer 600 guest rooms.
The project is expected to be completed in late 2022, and alongside the other hotel developments in the downtown pipeline, will bring the total number of rooms within walking distance of the convention center to more than 10,000. Indy already touts the most hotels and hotel rooms connected by enclosed skywalks into a center in the U.S., and this expansion will boost those numbers to 14 properties and 6,100+ hotel rooms all under one roof.
---
Hotel Happenings
In addition to the 1,400 highly anticipated rooms connected, another 1,800 are in the pipeline for downtown Indy, representing boutique brands like the country's first West Elm Hotel and Kimpton, as well as established brand favorites like aloft and InterContinental
---
Urban Expansion
A 100-acre site within a 10 minute walk from the convention district is primed for mixed use and visitor-centric expansion. Indy's new Waterside development will embrace its waterfront location and direct connection into White River State Park.
---
Waterfront Activation
A national design firm has been charged with activating more than 58 miles of the White River that flows through the heart of the city, connecting more than 60 points of interest and creating recreation opportunities for visitors and residents alike.
---
Uplift in Airlift
The country's best airport now boasts record airlift, with nonstop connections to 51 destinations. A new Delta Indy-to-Paris route means easy connections to and from 70+ destinations in Europe, Africa, Middle East, and Asia.
---
More Free Wifi
The Indiana Convention Center now offers free WiFi service in the facility's public areas, including the existing food courts and lobbies A through K. The new, free WiFi service provides guests attending events the ability to check email or surf the web in the public areas of ICC, outside of the exhibit floor, meeting rooms, and ballrooms, where attendees tend to congregate and get online most.